Posts for: December, 2017
By Dr. O'Sullivan & DeLuca Dentistry
December 24, 2017
Accidents happen, especially to teenagers involved with sports or similar activities. In an instant they can lose one or more teeth and permanently alter their smile.
Fortunately we can restore a teenager's lost teeth, but often not immediately as a permanent restoration with a dental implant requires maturity of their jaw structure. Our focus then turns to the age of the patient and the condition of the underlying bone. A future dental implant, your best choice for tooth replacement, depends on bone for support, but also the age of the patient as it relates to jaw development.
There are a couple of ways an accidental tooth loss can harm supporting bone: first and foremost, the impact of the accident itself can damage the bony socket. To find out for sure we may need to perform a cone beam scan, a type of x-ray that allows us to view the area three-dimensionally. If we do find damage, we can attempt to repair the socket through bone grafting.
Bone can also suffer from the long-term absence of a tooth. Bone has a growth cycle in which older cells dissolve and new ones form to take their place. The force generated by teeth when we eat or chew helps stimulate this growth. Without stimulation, as with a missing tooth, the bone may not grow at a healthy rate. In time, it could lose some of its volume and density and not be able to support an implant.
Installing an implant right after tooth loss could help avoid this situation. Bone has a natural affinity with the titanium post imbedded in the jaw and will naturally grow and adhere to it. But we can't place an implant with a teenager. This is because the jaw is still developing so an implant would gradually become misaligned as the jaw grows. It's best to install an implant later after full jaw development in early adulthood.
Today, we can place a bone graft in the empty socket right after tooth loss. The graft serves as a scaffold for bone cells to grow on and will help keep the bone volume at a healthy level until we can install an implant.
Timing is everything in restoring a teenager's accidental tooth loss. But with coordination and care for the supporting bone, a teenager can eventually enter their adult years with their smile intact.
If you would like more information on restoring your teenager's smile after tooth loss, please contact us or schedule an appointment for a consultation. You can also learn more about this topic by reading the Dear Doctor magazine article "Dental Implants for Teenagers."
By Dr. O'Sullivan & DeLuca Dentistry
December 09, 2017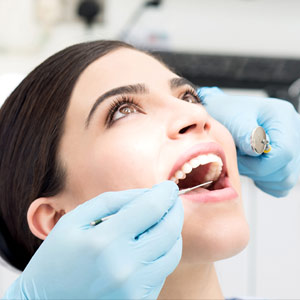 Dental cleanings are an important part of regular dental office visits. Performed by a dental hygienist or dentist, cleanings serve two purposes: to remove bacterial plaque and calculus (hardened deposits of plaque) from tooth surfaces missed during daily brushing and flossing; and to remove stains that can dull your smile.
There are different degrees of cleaning, including root planing that removes plaque and calculus deep below the gum line, usually for patients affected by periodontal (gum) disease. For patients in good oral health, the basic cleaning approach is known as prophylaxis, a term derived from the Greek for guarding or preventing beforehand. The techniques used in a prophylaxis remove both "coronal" (tooth surfaces visible above the gum line) plaque and staining, providing both therapeutic and cosmetic benefits.
A typical prophylaxis includes a procedure known as scaling. Hygienists use special instruments known as scalers to remove plaque and calculus by hand, or an ultrasonic device that vibrates plaque loose and is flushed away with water. The procedure removes that rough coating you often feel as you rub your tongue against your teeth, leaving the tooth surfaces feeling smooth.
Tooth polishing is a subsequent procedure to scaling that also removes plaque and surface stains. Polishing is carried out with a motorized instrument with a rubber cup in which a polishing (or "prophy") paste is contained. The hygienist moves the rapidly rotating cup filled with the paste over the tooth surface to remove plaque and stains. The end result is a highly smooth surface and a much shinier appearance.
People with dental insurance plans are often concerned tooth polishing may be viewed strictly as a cosmetic procedure, and thus not fully qualify for benefits. This should not be the case if coded properly: tooth polishing is part of the overall prophylaxis to remove plaque and staining. The primary purpose is therapeutic and preventive; the cosmetic effect is a by-product. Most dental plans will cover one or two prophylaxes (scaling and tooth polishing) a year, but there are variations so individuals should check their plans.
If you would like more information on dental cleaning, please contact us or schedule an appointment for a consultation. You can also learn more about this topic by reading the Dear Doctor magazine article "Tooth Polishing."