Posts for: January, 2021
By Dr. O'Sullivan & DeLuca Dentistry
January 13, 2021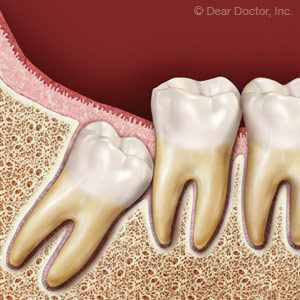 During election season, you'll often hear celebrities encouraging you to vote. But this year, Kaia Gerber, an up-and-coming model following the career path of her mother Cindy Crawford, made a unique election appeal—while getting her wisdom teeth removed.
With ice packs secured to her jaw, Gerber posted a selfie to social media right after her surgery. The caption read, "We don't need wisdom teeth to vote wisely."
That's great advice—electing our leaders is one of the most important choices we make as a society. But Gerber's post also highlights another decision that bears careful consideration, whether or not to have your wisdom teeth removed.
Found in the very back of the mouth, wisdom teeth (or "third molars") are usually the last of the permanent teeth to erupt between ages 17 and 25. But although their name may be a salute to coming of age, in reality wisdom teeth can be a pain. Because they're usually last to the party, they're often erupting in a jaw already crowded with teeth. Such a situation can be a recipe for numerous dental problems.
Crowded wisdom teeth may not erupt properly and remain totally or partially hidden within the gums (impaction). As such, they can impinge on and damage the roots of neighboring teeth, and can make overall hygiene more difficult, increasing the risk of dental disease. They can also help pressure other teeth out of position, resulting in an abnormal bite.
Because of this potential for problems, it's been a common practice in dentistry to remove wisdom teeth preemptively before any problems arise. As a result, wisdom teeth extractions are the top oral surgical procedure performed, with around 10 million of them removed every year.
But that practice is beginning to wane, as many dentists are now adopting more of a "wait and see" approach. If the wisdom teeth show signs of problems—impaction, tooth decay, gum disease or bite influence—removal is usually recommended. If not, though, the wisdom teeth are closely monitored during adolescence and early adulthood. If no problems develop, they may be left intact.
This approach works best if you maintain regular dental cleanings and checkups. During these visits, we'll be able to consistently evaluate the overall health of your mouth, particularly in relation to your wisdom teeth.
Just as getting information on candidates helps you decide your vote, this approach of watchful waiting can help us recommend the best course for your wisdom teeth. Whether you vote your wisdom teeth "in" or "out," you'll be able to do it wisely.
If you would like more information about what's best to do about wisdom teeth, please contact us or schedule a consultation. To learn more, read the Dear Doctor magazine article "Wisdom Teeth."
By Dr. O'Sullivan & DeLuca Dentistry
January 03, 2021
During this time of year, many of us dust off traditional family recipes and make our favorite holiday treats. There is, however, a small price to pay for all that nostalgic goodness in the shape of a few extra pounds to deal with in the new year. We may also be increasing the risk for something even more unpleasant: tooth decay.
The main cause, of course, is a certain carbohydrate integral to many holiday goodies: sugar.  We humans love it, but so do oral bacteria that readily devour any sugar lingering in our mouth after eating. This fuels bacterial reproduction, which in turn increases the production of acid that softens tooth enamel.
There are a number of strategies you can follow to reduce this effect. You can remove sugar completely from your holiday preparations—and risk family and friends "voting you off the island." Or, you can try these tips for easing the impact of holiday sugar on your dental health.
Look for ways to reduce sugar. Just because you're not throwing the sugar bowl out the window doesn't mean you have to go all out using it. Instead, try to modify older recipes (or look for newer versions) to decrease the amount of sugar in candies and baked goods. You may also consider alternative sweeteners like sucralose that tolerate high baking temperatures.
Balance savory with sweet. Not all holiday treats need to be sweet—you can add items that take advantage of more savory seasonings. For example, try offering up popcorn with a sprinkling of cinnamon or other holiday spice, or a creative assortment of cheeses (which in turn promote saliva flow to neutralize acid).
Combine treats with mealtimes. Continuous snacking may be part of the holiday tradition, but it can also raise the risk for tooth decay. Acidity increases when we eat, but saliva normally neutralizes it within thirty minutes to an hour. However, saliva can get overwhelmed during continuous snacking, resulting in longer periods of high acidity that damages tooth enamel. Instead, try to combine snack times with mealtimes.
Don't neglect your oral hygiene. Even though things can get hectic during the holidays, make a point of keeping up daily brushing and flossing. Regular hygiene keeps dental plaque, a thin film of harmful bacteria and food particles (including sugar), from building up on your teeth. Reducing plaque lowers your overall decay risk. Attention to oral health through your day-to-day dental hygiene routine along with regular professional cleanings and checkups is the best thing you can do to avoid dental disease.
The holidays should be a joyous time for you and your family. They can also be a healthy time for your teeth and gums, if you minimize the role of sugar in your holiday treats.
If you would like more information about boosting your dental health, please contact us or schedule a consultation. To learn more, read the Dear Doctor magazine articles "Nutrition & Oral Health" and "The Bitter Truth About Sugar."